Web Press Department
Printing Products
16 unit goss non-heat press
3 Folders
Baldwin Count-O-Veyers
Two-3-knife trimmers and gluers
Max. web size is 35″ with 23-3/4″ cut off
Print Services printing products web department specializes in printing broadsheets, business cards, double digests, signatures, tabloids and coupon books. The web department can even handle special flexies & signatures, trimmed & glued on press. We can produce 1.2 million per 24 hour shift. We will assemble a catalog to your specifications – stitched or perfect bound – with different weights and types of covers available. Order form envelopes are also available in a variety of sizes to meet your needs. Sufficient time is needed for this product – approximately 4 weeks before binding. Print Services can supply you with reply cards or #10 envelopes that are glued into place. If your current catalog is being mailed at the per pound rate, consider going to a smaller format or switching to a lighter stock weight. It could save thousands in mailing costs. Coupon books are also available with stitching or perfect binding.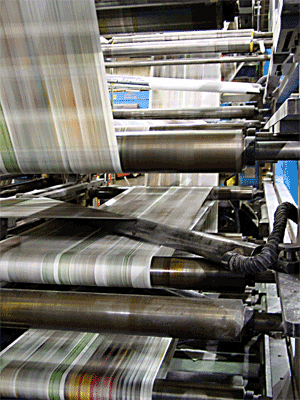 Sheetfed Press Department
Below is a list of some equipment that our quality conscious pressmen have at their disposal.
Komori L426 20″ x 26″ four-color press with IR dryer
Shinohara 65 IIP two-color perfector
Two 9810 AB Dicks with T-51 color heads
9810 AB Dick with T-51 color head and high speed envelope feeding attachment
Thermographic (raised printing) unit
Duplo DC-8000 Collating System with stitcher, folder and trimmer
Shoei Star 49 folder
Model 2020 Baum folder
Itek 40″ Guillotine
Socbox Numbering, perfing and scoring unit
Kodak Hi-speed copier
GBC laminator 24″
Challenge MS-10A heavy duty paper drill
Graphic Design
Print Services printing products can help you design a printed piece that will effectively communicate your ideas. The composition department can do graphic design, layout, typesetting, image scanning, image editing and more.
Some of the equipment used in the composition department are: Apple PowerMacintosh and Quadra computers; LaCie and Agfa Arcus Plus Scanners; and a Kodak DC 50 Digital Camera. The composition department can output to tabloid size, 1200 dpi laser printers, a Lexmark 4079 plus tabloid color inkjet printer, and an Agfa Accuset 1000 Imagesetter that can output 14″ film or RC paper at up to 3000 dpi, and our latest addition is an Agfa Accuset 1500 Plus, this Imagesetter is approximately 3 times as fast as its predecessor. The department uses all major publishing programs like Adobe Illustrator, Adobe Pagemaker, Adobe PhotoShop, Adobe Streamline, QuarkXPress, Macromedia Free Hand.
Customers with their own desktop publishing can send their files electronically through internet email. We can also accept files from a variety of portable storage media such as: Iomega Zip& Jazz, 128 &230mb optical disks, 44 or 88 mb Syquest disks.
Camera & Pre-press
One phrase that comes to mind when talking about the prepress department is attention to detail. The graphic designer's or customers' artwork is brought into this department where it is then checked and prepped for the prepresses.
The prepress printing products department tackles such issues as conventional trapping, imposing, creep, and stripping in separations. This is where issues such as color fidelity or trapping are handled. Print Services meticulous prepress staff ensure a high quality printed piece.
Some of the equipment that the prepress department uses are: Process and black and white cameras: Screen C-240-D ST, Carlson Sharp Shooter, 2 nuArc vacuum frames, Olix Light Integrator, Screen LD-281-q, Auto Companica 690D, Dylux Exposure unit. Stripping: Proofing-Naps Color Key; Dylux; PMT; Contacts; Carlson register system; Kodak contract one-piece proofing system. Platemaking: 2 Exposure nuArc flip top platemakers; we use all Kodak Series plates; and most recently added is an Epson 5000 inline color proofer.
The prepress printing products department can provide high quality color separations based on customer provided photos, slides or transparencies. Line screens for the web side are 85-100 lpi and for sheetfed projects 85-200 lpi screens are available.
Background Knockouts and Silhouette Masking:
Firm price quotes can be determined following examination of work to be done. Your account representative can help you with these price quotes.
Bindery Options
Self-Cover
Simply means that the covers are printed on the same paper stock as the inside pages, and this is the most economical version.
Separate Covers
Are available in a wide selection of finishes, colors & weights.
Glue Binding
Is the most economical way to introduce catalogs and generally can be used for sizes up to 80 pages, depending on the weight of paper. All glue bound catalogs are self-cover, as separate covers cannot be used with this type of binding.
Saddle Stitched Binding
Can be used for any size catalog or book up to 96 pages on paper weights up to 60# or 120 pages on papers up to 50#. If you wish to use a separate cover of heavier paper, you can do so with saddle stitching.
Perfect Binding
Is usually used for catalogs and books of more than 200 pages. Perfect binding requires use of a separate cover.
Single Page Flyers
Print Services has added a Uni-Trim high speed in-line rotary trimming system. This system enables us to produce single page flyers and magazines or booklets printed in single to multi-color on 30# newsprint up to 7.5# stock. The flyers are great for inserts and mailers. The 7.5# card stock can be vertically or horizontally perforated for a mail piece or business reply card. Print Services's ability to print and trim to size, completely in-line at web press speeds means fast turnaround, quality multi-color printing, excellent service and tremendous savings for you.
Please choose from one of the following printing products:
Official Sponsor Print-Services.com