Order Prints
Make sure your art is securely attached to the layout sheet. It is advisable that you keep a photocopy of the art. Submit one copy of your artwork with color(s) indicated when sending an order prints. Check all pages to guarantee that copy appears only within the proper image area. Please remember that any inconsistency in the density of your copy will be reproduced. Any typographic, photographic or clerical error is subject to correction at time of receipt of order.
Preparatory Work
When planning your printing project remember preparation or artwork, typesetting, and/or paste-up will require additional time. Please consult with your account representatives regarding quotes and turnaround times.
Proofing
We encourage clients to do proofing and make corrections before sending camera ready art to us, but you may also wish to see a proof with all the artwork and photographs, etc., in position. Please specify how you would like your proof delivered: Express Mail, Federal Express, etc. The preparation and furnishing of proof requires time to be added to the normal printing schedule. Consult with your account representative regarding the turnaround time for your project.
Delivery
Please specify the delivery address, method of payment preferred for freight charges and any requirements you have regarding the specific carrier and packaging. Standard terms of delivery are pre-paid. If you require drop shipments to other addresses, an additional charge per address will be made. Allow for delivery time in your overall schedule. In the Midwest states, this usually requires three to seven working days. In the Print Services states, seven to ten working days and up to ten working days for the East Coast. Approximately 5 working days will be added to the printing schedule for the completion of mailing projects unless they exceed 100,000 pieces. Consult with your account representative for larger quantities. Most customers ship camera ready materials to us by air (air parcel post, Express Mail, UPS Blue Label, Federal Express, etc.), which is delivered to us usually in one to three days.
Whats New
As the industry demanded more economical presses, faster return on investment and enhanced flexibility…..The Mark Andy engineers went to work. The result is one of the most versatile converting systems available today….The Mark Andy Scout.
The Scout not only keeps pace with the ever expanding needs of the converting industry….but it blazes a trail towards the future with innovative features and market expanding opportunities. With one look, you can see that the Scout provides features never before offered on a press this size..at this price.
Scout Printing Specifications
| | | |
| --- | --- | --- |
| | Imperial | Metric |
| Maximum print width | | |
| Maximum die cut width | | |
| Print repeat | | |
| Die cut repeat | | |
| Top side | | |
| Bottom side | | |
| Unwind capacity | | |
| Rewind capacity | | |
| Speed | | |
| Gearing | | |
| Drive | | |
| Voltage | | |
Optional Accessories

o Second 26″ rewind


o Fan folder drive

o Additional die cut module


o Delam/Relam manual view strobe light

o Razor blade slitter

o Shingling Conveyor

o Laminator

o Drop-In hole punch

o Web turn bar unit

o UV Curing System

o Vision system or simple

o Ink pump
GEW U.V.
Showing at PacPrint with the new GEW model UCP U.V. curing system. The new energy efficient system has unique COLD REFLECTOR with dual flow air cooling utilising glass diachroc material, which minimises heat while maximising U.V. output.
As well as the "All New" exciting addition to the Mark Andy family, the Scout, we will be showing the best from Rotoflex in the form of the DSI machine for die cutting and inspection and a VSI slitter inspection machine equipped with the ALIS automatic web inspection system.
Rotoflex
The Alis sees 256 grey scales for colour variation as well as register changes, missing print and imperfections of around 1mm in size as well as missing labels and matrix.
Representatives from Mark Andy and Rotoflex will be at Pacprint along with people from Tools and Production. The people from T& P can advise you on all your punching and converting requirements.
Print Services will have a full working stand so let us show you some of the latest innovations in narrow web printing…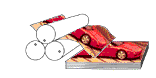 Official Sponsor Print-Services.com