The next generation of UV drying systems from GEW
GEW UV DRYING MACHINES
Compact dryer and control cabinet
Ultra energy-efficient, cool curing
Precision engineered at affordable prices
Suitable for all printing and coating processes
Now with NUVA Touch Screen Control
Cold reflector – replaceable dichroic inserts (patented by GEW) as standard for maximum
UV reflection with minimum heat. The combination of focused and cold reflector
delivers 90% of the available GEW UV DRYING MACHINESyet only 35% of the infra red (heat) to the substrate.
GEW NUVA TOUCH SCREEN CONTROL
Colour graphical interface linking GEW UV DRYING SYSTEM control and operator
Simple to set lamp power units and ramping, globally or individually.
Shutter advance /delay for less waste with sensitive substrates.
Easy indication of running conditions, faults and lamp hours.
Optional infinitely variable (stepless) power, on-line UV monitoring, job setting memory and modem for remote diagnosis.

GEW UV DRYING MACHINES Today

Today GEW equipment is used on many of the world's most advanced printing machine manufacturers. Our products are highly regarded for their standard of engineering, reliability and performance and our fast, friendly and flexible approach has kept customers loyal to us over many years. As testimony to this, our first ever customer is still buying from us today.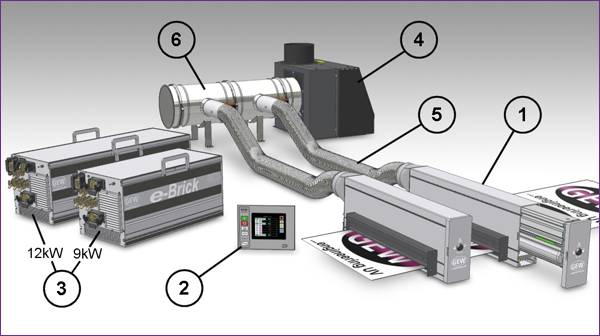 Official Sponsor Print-Services.com