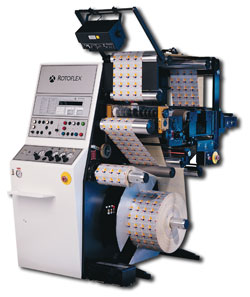 Rotoflex provides complete, innovative inspection, slitting and rewinding solution which redefine return on investmen for converters. Rotoflex machines feature superior inspection capabilities, roll-end control and fault placement flawlessly commanded by the exclusive Genesis advanced control system. The completely new eDrive 2.0 system delivers an integrated drive and motion platform for managing web tension and movement from unwind to rewind
Rotoflex Printing Machines VSI – VERSATILITY
Rotoflex Printing Machines line of high speed, Inspection Slitting and Rewinding machines have earned the reputation of being robust and dependable. From the small VSI models to the larger, more sophisticated VLI models, ROTOFLEX International maintains the highest level of product quality to ensure trouble-free operation for years to come
With an emphasis on maintaining web control, through starts, stops and speed changes, Rotoflex Printing Machines integrates the latest web inspection and finishing technologies to continually improve machine performance and enhance product quality. Operator comfort and convenience are features integral to every Rotoflex Printing Machine.
Supported by a full electronics package, with quick setup features and easy-to-use controls, the operator maintains a full view and has total control of the three critical functions of inspection, slitting and rewinding.
Electronically detected or visually observed faults are easily remedied using an adjustable splicing table to ensure that only good product is rewound for shipment to your customer.
Using the latest in electronic web guiding technology, the web is precisely positioned for ultimate slitting accuracy and different rewind core size requirements are easily accommodated by the quick-change interchangeable rewind shaft design.
Model VSI Specifications:
Maximum Web Widths:

VSI-250

10 inches (254mm)

VSI-330

13 inches (330mm)

VSI-400

16 inches (407mm)

Web Speed*:

0 – 750 ft./minute (0 – 230m/min.)

Rewind Capacity*:

1″ (25.4mm) pneumatic shaft to 9″ (230mm) roll diameter

3″ (76mm) pneumatic shaft to 18″ (457mm) roll diameter

Unwind:

3″ (76mm) pneumatic shaft to 28″ (711mm) roll diameter

(optional 40″ (1016mm) diameter unwind stand available)
URC – Universal Rotoflex Controller – provides automatic setup & fault detection functions according to web characteristics
Motion Control Systems State-of-the-art web control for even the most sensitive materials
Automatic Web Gripper/Feeder maintains slit web positions and tension during rewind roll changes
Shear Slitting System with setup stand and digital setup device
Dual Rewind Shafts with Ironing Rollers for non-pressure sensitive product rewinding
The VSI and VLI are also available with Model 2 cabinet design
Roll Lifting Unit for convenient and safe loading of heavier unwind rolls
Optional productivity enhancing and flexibility features include:
disengageable 2-blade shear slitting systems (standard and cartridge-type)
air loaded crush knife slitting
lineal die slitting
razor slitting
digital setup devices
multi-speed high/low torque rewinds
automatic web gripper/feeder
dual rewind shafts
turret rewinds
waste rewind systems
vacuum trim removal
ironing rollers
roll lifts
interchangeable core and coreless rewind shafts
ultrasonic edge and printed line web guide sensors
unit and length repeat counters
clear label counting
flag/millsplice detection
matrix/missing label detection
static reduction
stroboscopes
automatic web inspection systems
automatic tension controls
VLI – HIGH PERFORMANCE
The ROTOFLEX International Model VLI Inspection Slitting and Rewinding machines are designed to handle the more sophisticated converting and finishing applications. With a larger frame and enhanced transmission the model VLI machines offer an even greater number of features and performance benefits.
Larger unwind and rewind roll capacities, adjustable unwind splicing table, increased horsepower, encased gearbox and magnetic particle clutches are standard features on all Model VLI machines. And with additional available features such as an automatic label remover, die-cutting station, vacuum draw roller and enhanced tension control systems the ROTOFLEX International Model VLI machines can be specifically configured to meet even the most critical applications.
Model VLI Specifications:
Maximum Web Widths:

Web Speed*:

VLI-250 – 10 inches (254mm)

0 – 850 ft./min. (0 – 260 m/min.)

VLI-330 – 13 inches (330mm)

VLI-400 – 16 inches (407mm)

VLI-500 – 20 inches (508mm)

VLI-700 – 28 inches (711mm)

Rewind Capacity*:

Unwind Capacity:

24″ (610mm) roll diameter

VLI-250, 330, 400:


30″ (762mm) roll diameter
(Optional 40″ (1016mm)
diameter unwind stand available)


VLI-500, 700

:
40″ (1016mm) roll diameter
Rotoflex Unwind Stand complete with roll loading and automatic tension control
Automatic Label Remover creates leaders and trailers on finished rolls
Cartridge Shear Slitting System removable from the machine with out breaking the web
DSI DIECUTTING
Standard Features:
3. H.P. DC Drive
Pre determining 10″ (254mm) increment length counter
Pre select slowdown
Totalizer
Independent unwind and rewind tension controls
Adjustable splicing table
Pneumatic 3″ (76mm) unwind and rewind shafts
Web separating idler
Electronic edge web guiding system
Maximum machine speed
Standard label finishing – 750 fpm (230 mpm)
Blank label diecutting – 500 fpm (153 mpm)
Unwind capacity: 28″ (711mm)
Rewind capacity: 18″ (457mm)
Automatic stop at roll end
Basic spare parts package
Diecutting Station:
Pneumatically controlled matrix waste rewind assembly (maximum 14″ (356mm) diameter) with driven capstan, 2″ (51mm) diameter stripping roller, and 3″ (76mm) diameter core type rewind shaft
Repeat lengths: Minimum 6″ (48T), maximum 14″ (112T)
Additional Features:
Shear knife unit
Two speed rewind
Automatic web gripper/feeder
Dual rewind shafts
Stroboscope
Total label and length counter
Official Sponsor Print-Services.com