Ga-Vehren Printing Machines
The unique modular design of Ga Vehren machinery makes it adaptable for many different market applications.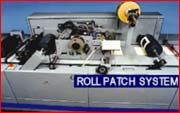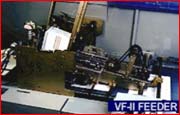 Targeted Market Applications:
Direct Mail/Lettershops
Possible Application: Attach double postcards, coins, tokens, keys on response device or self mailer with multiple inserts, plow fold, closed and addressed
Bindery/Fulfillment Houses
Possible Application: Attached diskettes, CDs, signatures, reply cards
Commercial/Promotional Printer
Possible Applications: Affixing value-added devices, pop-ups, or signatures to finished products
Folding Carton Converter
Possible Applications: Coupons, booklets or cross-sell products attached. Windowing/patching in combination with straight-line gluers
Contract Packagers for Product Sampling
Possible Applications: Single use packets tipped to handouts, magazine inserts, or for software packaging
Publishing
Possible Applications: Signature tipping, card to signature, sampling, software, children's books or game pieces
Greeting Card Industry
Possible Applications: Enhancements inserted in or on cards, seed packets, phone cards, verse inserts, pictures attached
Business Form Manufacturers
Possible Applications: Promotional or transactional document affixing, multi-ply mailers, pattern gluing, windowing, off-line or in-line
Plastic Cards
Possible Applications: Feeding, attaching, reading, encoding, imaging and package assembling of plastic cards
Phone Card
Possible Applications: Affixing phone cards onto folding cartons, point-of-sale packaging, direct mail pieces, and greeting cards
Punches & Dies
Ga Vehren Printing Machines T&P is known throughout the industry for supplying the highest quality of punches and dies. Only the finest materials are used and tolerances are precisely controlled for optimum performance. Several thousand designs are available to choose from when custom designing your units. There is a wide range of configurations available. In addition, punches and dies are offered in varying degrees of alloy steel, high speed steel, stainless steel, tool steel and tungsten carbide.
Special shapes utilize an alignment pin for proper and accurate positioning in order to reduce set-up time. T&P specializes in non-standard and unusual shapes…call us today to discuss your particular application.
Label press punch units fit onto your press in one of the following ways:
Platform Unit
Designed to fit the accessory module of most narrow web label presses. Provides the most accessibility and is heavy duty.
Drop-in Units
When an accessory module is not available, it is sometimes possible to "drop" a punch unit into the die station of a label press. Accessibility is not as easy as the platform model, but this type of unit can offer an economical alternative if required.
Bolt-on Units (not shown) Some presses are not designed to accommodate drop-in or platform units (such as the Mark Andy 830 and 910 or the Webtron 650 and 750 presses). Therefore, a punch unit can be "bolted" onto the end or side of the press. Graftek's experienced staff of friendly sales, and customer service personnel will be happy to assist you with evaluating your particular requirements. We can provide standard as well as custom designs to suit your application.
TYG Plate Mounter
Graftek is the exclusive Australian and New Zealand agent for TYG Video and plate mounters.
The plate mounters are made in a range to suit narrow or wide web flexographic printers. These solidly built units offer the highest precision engineering
Please feel free to visit our Ga-Vehren Printing Machines Melbourne showroom where we have a TYG Plate.
Official Sponsor Print-Services.com